Pasta alla Norma with tofu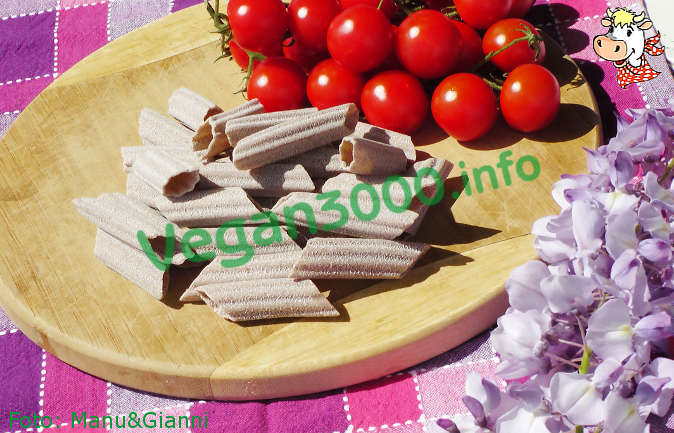 Disclaimer
This translation has been done by an automatic system, therefore we apologize if it isn't perfect. If you find any mistake or you have any suggestion for a better translation, please contact us.
Ingredients
For 4 people: 350 g pasta (penne or sedani)-100 gr of tofu-500 gr of ripe tomatoes-2 long aubergines-1 onions-3 tablespoons of extra virgin olive oil-some basil-chili-oil-salt-gomasio
Instructions
Wash and cut the eggplant slices, then place them on a surface sprinkled with pinches of salt, because they lose their water: go let drain for about an hour.
Boil two pots of water.
Dip the tomatoes in boiling water to blanch them briefly with ease: just about a minute to facilitate this.
Remove the seeds from the tomatoes too.
Make a fried in oil with the chopped onion.
Then pour in the sauté the chopped tomatoes and a little chilli.
Aggregate crumbled tofu and cook over medium-slow for about twenty minutes.
While the sauce is cooking, rinse the eggplant slices, dry them with a clean cloth and then fry in hot oil.
While fry, cook the pasta in a separate pot with boiling water (and salt) that you have prepared.
Picked up the eggplant from the oil when they are golden brown and dry them extending them on kitchen paper.
Drain the pasta when cooked and pour into a tureen possibly hot.
Add the torn basil in tomato sauce, but only at the end of cooking to avoid losing the aroma.
Pour the sauce over the noodles, and sprinkle over slices of fried eggplant.
Mix very well and finally sprinkle with gomasio and serve immediately.
---
---
---
---
---
Notes
(Thanks to Quetzali)
Your comments
provate a cuocere il tofu separatamente e aggiungete solo alla fine quando mescolate tutto. in inverno si può fare il sugo con le passate di pomodoro il risultato è cmq garantito.
- mirko -
Articolo ben fatto
- anonimo -
Io uso l'aglio al posto della cipolla x dare più sprint, non metto il tofu ed abbondo col basilico
- Marina -
Have you tried these recipes?