Eggplant rolls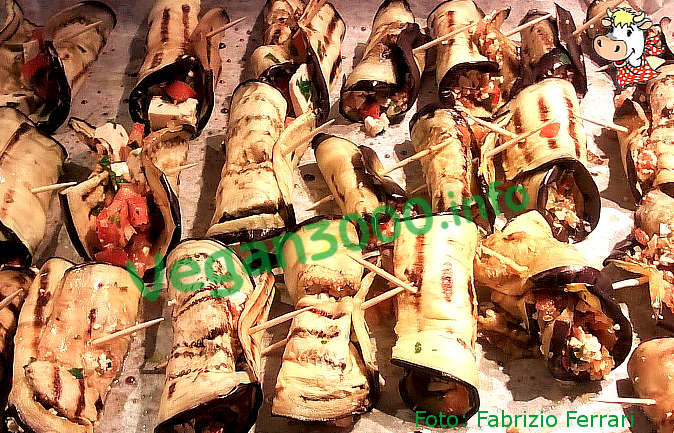 Disclaimer
This translation has been done by an automatic system, therefore we apologize if it isn't perfect. If you find any mistake or you have any suggestion for a better translation, please contact us.
Ingredients
eggplant - sauce of tomatoes - onions - grated breadcrumbs - whole peeled tomato - basil leaves - dry bay leaves- extra virgin olive oil - salt and pepper
Instructions
Cut the eggplants lengthwise, ricavendone slices about 2 cm thick and place them for at least half an hour in water and salt to lose their bitterness.
Dry and fry in plenty of oil. prepare the tomato sauce: sauté the chopped onion and add the sauce and basil, season with salt and pepper and cook.
Prepare the stuffing: sauté the onion you just cut into pieces in hot oil and then stir in the bread crumbs and some peeled tomatoes: cook until the bread crumbs turn gold.
Place a slice of eggplant on the shelf, put a little of the filling and roll it up by making a roll.
Keep going until you esaurimemto of ingredients.
Take a baking dish and pour a layer of tomato sauce, then arrange the rolls next to each other, alternating every now and then with some dried bay leaf.
Cover with little sauce and bake.
---
---
---
---
---
Notes
(Thanks to Rosalinda)