Saffron risotto with porcini mushrooms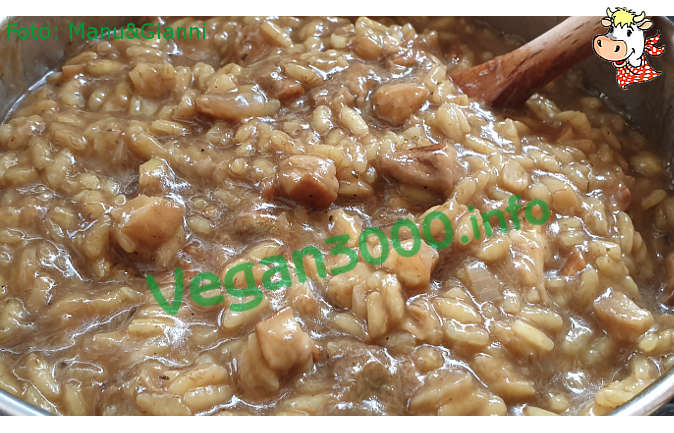 Disclaimer
This translation has been done by an automatic system, therefore we apologize if it isn't perfect. If you find any mistake or you have any suggestion for a better translation, please contact us.
Ingredients
For 2 people
200 g of mushrooms
1 liter of vegetable stock
2 Tablespoons extra virgin olive oil
1 shallot
160 g rice
1 sachet of Saffron
2 cloves garlic
pepper
salt
2 tablespoons nutritional yeast flakes and a little olive oil (to cream)
Instructions
Clean the mushrooms by deleting the earthy part of the stem with rootlets, scrub thoroughly with a stiff bristle brush and wipe with a damp cloth to remove any remaining dirt.
Slice them.
Heat the broth.
In a soup pan put half oil and coarsely tritarvi shallots.
Turn on the heat and sauté the shallots over medium heat.
When it is browned add a spoonful of broth and continue cooking for 5 minutes.
Add more broth if the sauce becomes too dry.
Add the rice and toast for a few minutes.
Add 4-5 ladles of boiling broth and set the timer according to minutes to cook the kind of rice you are using (usually 15-18 minutes).
Continue adding the broth as it is absorbed, stirring occasionally, without letting the mixture dries too, otherwise he would cook and intermittently.
Halfway through cooking, add the saffron dissolved in a spoonful of broth.
While the risotto finished cook put the remaining oil in a frying pan and peeled garlic.
Do it well and then remove it on high heat until golden add mushrooms.
Blow them up on high heat for a few minutes, add a tablespoon of broth, a sprinkling of pepper, a pinch of salt and continue cooking a few minutes up to dry the cooking liquid.
Switch off and keep warm.
After cooking the rice stir in a little olive oil and baking sacglie, keeping aside a little for garnish, add salt, turn off the heat and cover for one minute.
Distribute the rice on the plate, put all around stir-fried mushrooms and garnish with the remaining yeast flakes and a sprinkling of pepper.
---
---
---
---
---
Notes
(Thanks to Barbara F.)