Chocolate-hazelnut pralines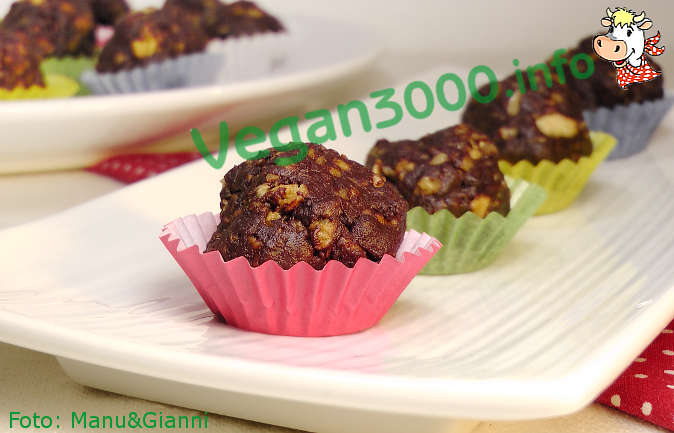 Disclaimer
This translation has been done by an automatic system, therefore we apologize if it isn't perfect. If you find any mistake or you have any suggestion for a better translation, please contact us.
Ingredients
1 package of chocolate and hazelnuts
375 g muesli, crunchy and vegan
200 g vegan dark chocolate
200 ml chocolate soy milk
Instructions
Break up the chocolate and melt it together with the soy milk over low heat in a thick-bottomed pot, being very careful not to attack.
Add the Granola and mix thoroughly until mixture is thick and smooth.
Turn off the heat and let cool a little, but otherwise completely solidifies to cool!
With the mixture formed into balls arranging them by hand on a baking sheet covered with parchment paper.
This time let it cool completely.
You can serve the pralines is at room temperature and cold from the refrigerator, according to taste and season.
---
---
---
---
---
Notes
Thanks to Emanuela Barbero, webmaster di Vegan3000 e autrice di libri di cucina vegan
Have you tried these recipes?