Fennel gratin with hazelnuts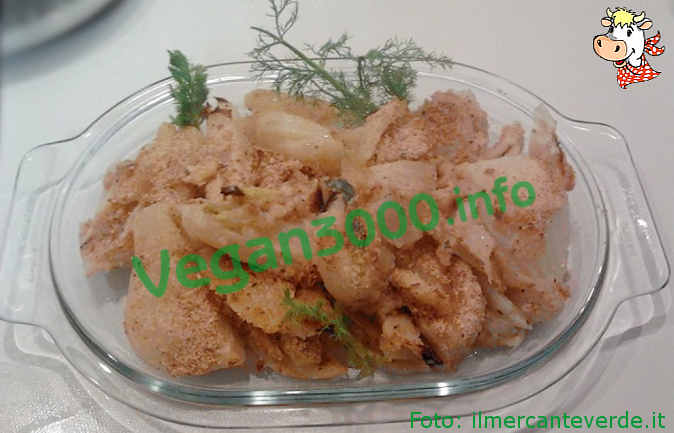 Disclaimer
This translation has been done by an automatic system, therefore we apologize if it isn't perfect. If you find any mistake or you have any suggestion for a better translation, please contact us.
Ingredients
For 4 people
4 fennel
a sprig of parsley
1 clove of garlic
pitted green olives
chopped hazelnuts
extra virgin olive oil
salt and pepper to taste
breadcrumbs
Instructions
Clean the fennel, wash thoroughly and cut into slices.
Bring to a boil salted water and boil for 10 minutes about the fennel.
Drain.
Grease a baking pan with olive oil and arrange the fennel to form a single layer.
Meanwhile chop a couple of handfuls of hazelnuts (replaces the parmesan).
In a bowl put the bread crumbs it takes to cover the fennel, salt and pepper, parsley and chopped garlic, chopped hazelnuts, finely chop the olives and mix everything together.
Sprinkle the fennel with breadcrumbs you have flavored, spread a little olive oil and 3 tablespoons water.
Bake at 180° C for about 20 minutes.
The last few minutes place the oven in the grill function to form a crisp crust.
Serve hot and enjoy!
---
---
---
---
---
Have you tried these recipes?