Bombay potatoes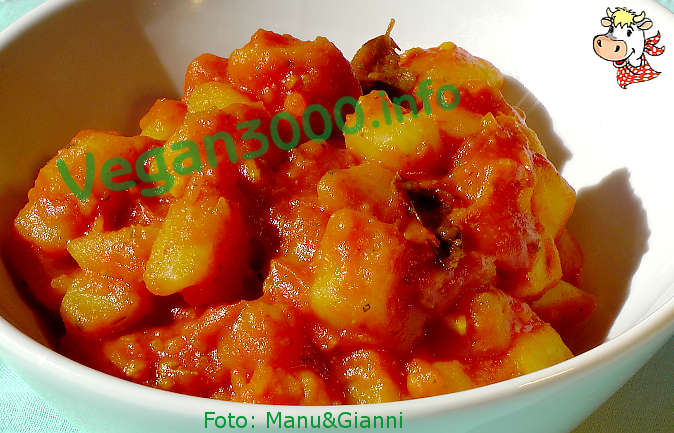 Disclaimer
This translation has been done by an automatic system, therefore we apologize if it isn't perfect. If you find any mistake or you have any suggestion for a better translation, please contact us.
Ingredients
For 4 people
1 kg potatoes
300 ml of tomato sauce
1 tomato
1 onion
2 cloves of garlic
a piece of ginger (or .5 teaspoon powdered)
a bit of turmeric (or .5 teaspoon powdered)
a few leaves of fresh coriander (or .5 teaspoon dried)
some curry leaves (the plant, even dried)
2 teaspoons Indian spice mixture garam masala
chilli (fresh or powder, amount according to taste)
2 teaspoons mustard
0.5 teaspoons cumin seeds
0.5 lemon juice
2 tablespoons sesame oil
salt
Instructions
Peel the potatoes, cut them into cubes and cook by steaming.
Meanwhile chop the tomato.
Finely chop the onion, garlic, ginger and turmeric.
In a large pan, pour the oil and sauté the chopped obtained, adding a few tablespoons of water.
Add the tomato and, when boiled potatoes are soft, pour themselves into the pan.
Add all other ingredients and mix carefully.
Simmer on low heat for about 5 minutes, so as to amalgamate all the flavors and thicken the tomato sauce.
Serve hot.
---
---
---
---
---
Notes
Thanks to Emanuela Barbero, webmaster di Vegan3000 e autrice di libri di cucina vegan
Have you tried these recipes?