Pumpkin and lentil curry with Basmati rice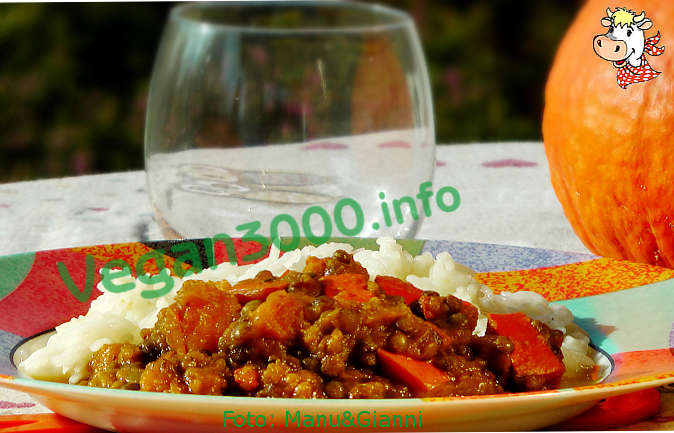 Disclaimer
This translation has been done by an automatic system, therefore we apologize if it isn't perfect. If you find any mistake or you have any suggestion for a better translation, please contact us.
Ingredients
For 4-6 people
200 g small lentils, red or green
800 g of pumpkin Hokkaido or Delica
1 clove of garlic
1 shallot
2 teaspoons curry powder
2 teaspoons chopped fresh ginger or 1 teaspoon ground ginger
0.5 teaspoon cumin seeds
a few leaves of fresh coriander (or 0.5 teaspoon dried)
some curry leaves (from the plant, even dried)
sesame seed oil
salt

To accompany
80-100 g of Basmati rice per person
2-3 cardamom seeds
Instructions
Peel the squash and dice.
Chop the garlic, shallots and ginger, then fry in a crock pot with a few tablespoons of oil.
Add all the spices, let it warm up in the sauté until their full aroma, then add the lentils, rinse them under the tap.
Pour a cup of water and the pumpkin cut into chunks, stir well and cook for about 30 minutes with the lid and sweet flame, until completely cooked.
Stir occasionally with a wooden spoon and add a little water at a time as it dries: after cooking the liquid must be completely absorbed.
Add salt only towards the end to prevent the lentils become harsh.
Cook the Basmati rice in twice its volume (two cups of water for each cup of rice), salting the cooking water and combining the same some cardamom seeds to scent the rice.
Serve hot.
---
---
---
---
---
Notes
Thanks to Emanuela Barbero, webmaster di Vegan3000 e autrice di libri di cucina vegan
Have you tried these recipes?