Vegan3000 custard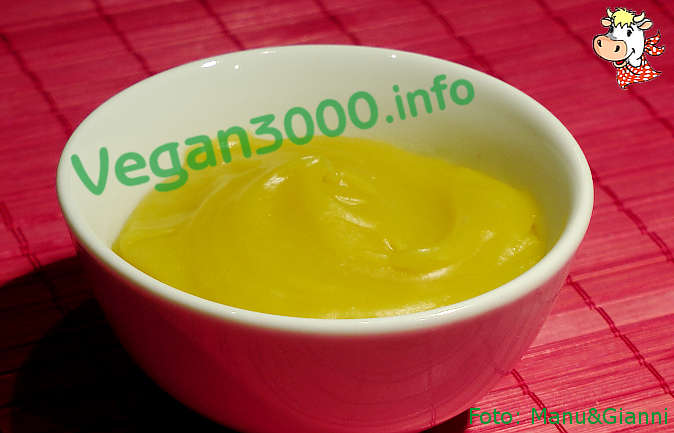 Disclaimer
This translation has been done by an automatic system, therefore we apologize if it isn't perfect. If you find any mistake or you have any suggestion for a better translation, please contact us.
Ingredients
250 ml of milk rice (or soy vanilla flavored)
50 ml rice malt syrup (or wheat)
50 g flour type 00
the tip of a teaspoon of turmeric
1 teaspoon organic lemon zest
Instructions
Pour milk into a thick-bottomed saucepan, add the flour, stirring vigorously with a whisk to mix it well.
Add all other ingredients and, stirring continuously to prevent lumps, left on the stove over medium heat until the mixture has thickened.
When the cream is ready, if you intend to consume it as pudding then in individual bowls, but if you want to use it for a filling, let it cool first.

Chocolate variation
Omit the turmeric (which gives yellow to light cream) and add a teaspoon of cocoa powder.
---
---
---
---
---
Notes
Thanks to Emanuela Barbero, webmaster di Vegan3000 e autrice di libri di cucina vegan

© RICETTA PUBBLICATA NEL LIBRO La Cucina Etica per Mamma e Bambino
di Emanuela Barbero e Antonella Sagone – ed. Sonda