Spirulina tagliatelle with TT ragout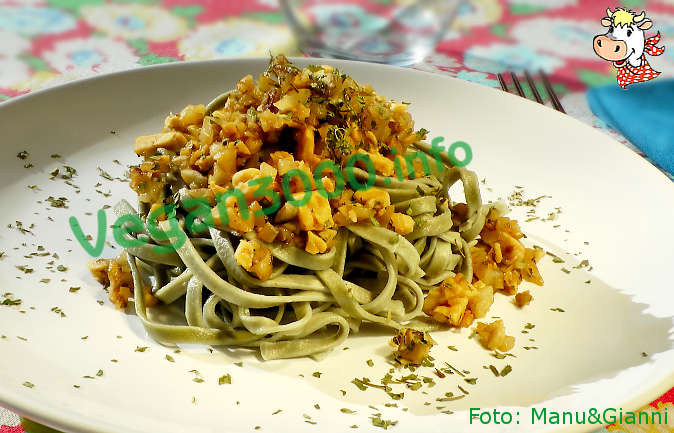 Disclaimer
This translation has been done by an automatic system, therefore we apologize if it isn't perfect. If you find any mistake or you have any suggestion for a better translation, please contact us.
Ingredients
For 4 people
300 of tagliatelle pasta with spirulina
200 g tempeh
200 g fruits
2 cloves garlic
parsley
extra virgin olive oil
soy sauce (shoyu)
salt
Instructions
T T stands for tempeh and topinambur (Jerusalem artichoke): this is a hearty ragout that together with the spirulina seaweed contained in pasta provides a rich full plate.
Chop the garlic and diced very small tempeh and keep it aside.
Peel the Jerusalem artichokes and chop coarsely.
Heat the garlic in oil, add the chopped artichokes, add salt, add a cup of water, stir and simmer with the lid on for 10-15 minutes.
Stir occasionally checking bindings, if necessary, add a few tablespoons of water.
After about 10-15 minutes, add the tempeh, sprinkled with a bit of shoyu, stir and let simmer for another 5-10 minutes gentle flame.
Meanwhile Cook the pasta in boiling salted water, drain and leave to jump quickly into double t ragout (tempeh + topinambur, that is Jerusalem artichokes) joining at the last moment a little chopped parsley.
---
---
---
---
---
Notes
Thanks to Emanuela Barbero, webmaster di Vegan3000 e autrice di libri di cucina vegan