Burger with chickpea fritter and cannellini cream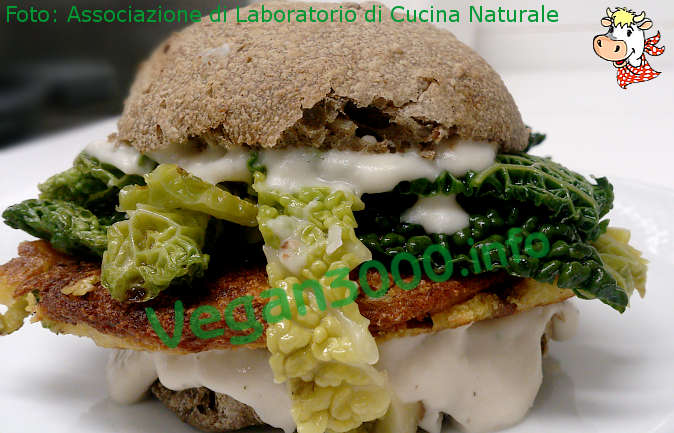 Disclaimer
This translation has been done by an automatic system, therefore we apologize if it isn't perfect. If you find any mistake or you have any suggestion for a better translation, please contact us.
Ingredients
Ingredients for fritters
200 g of flour
400 g water
1 leek
salt
pepper
extra virgin olive oil
Ingredients for the sauce
300 g cooked torches
1 jar of soy yogurt
1 clove of garlic
rosemary
thyme
extra virgin olive oil
salt
pepper
Other ingredients for the filling
Savoy cabbage leaves
garlic
shili
extra virgin olive oil
Instructions
Preparing the fritters
Mix in a bowl the flour with water.
Let stand in refrigerator for at least 5-6 hours.
Past time to soak, add a teaspoon of salt and 2 tablespoons extra virgin olive oil.
Anoint with oil a frying pan and heat it up very well, then pour 1 ladleful of batter (or 2, or more if the pan is large enough).
Cook for a few minutes on one side, then turn and cook the other.
Set aside.
Preparing the sauce
Go to Blender puree the beans to obtain a smooth and homogeneous.
Do some chopped garlic and the herbs, add it to the yogurt with the oil, salt and pepper; Add the puree of white beans and stir. Let it sit in the fridge for a couple of hours.
Preparing your burger
Dial the burger by placing the salsa, pancake, other sauce and cabbage blanched quickly and then beating in olive oil with garlic and chilli.
---
---
---
---
---
Notes
Thanks to Associazione di Laboratorio di Cucina Naturale
Have you tried these recipes?