Trio of wholegrain rice with beans and kale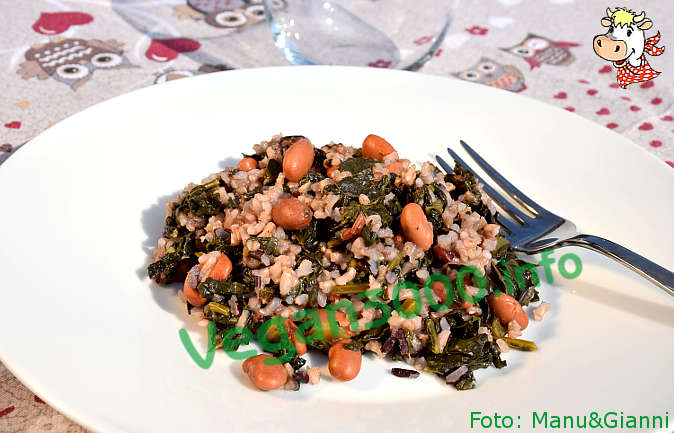 Disclaimer
This translation has been done by an automatic system, therefore we apologize if it isn't perfect. If you find any mistake or you have any suggestion for a better translation, please contact us.
Ingredients
For 6-8 people
500 g Brown rice trio white, red and black
500 g of beans already boiled
500 g of Kale
.5 red onion (optional)
chilli (optional)
extra virgin olive oil
Salt
Instructions
Boil the trio of integral rice (they are also already blended in packs of 500 g) in salt water.
Peel the cabbage and cut it into strips, then let it season in a large pan with a little olive oil and a pinch of salt.
Add a glass of water, stir again and cover, then simmer on low heat until completely cooked the Kale. Stir from time to time checking that doesn't stick to the bottom of the Pan and, as soon as the water is absorbed, add another: half a Cup at a time; at the end of the cooking time must be completely absorbed and the cabbage should be cooked and without residual liquid.
When the trio of integral rice is cooked, drain and pour into a large Salad Bowl, then add the cabbage and beans boiled and dressed with olive oil.
To further enrich this dish you can also add the finely sliced raw onion and season with a little pepper (amount according to taste).


---
---
---
---
---
Notes
Thanks to Emanuela Barbero, webmaster di Vegan3000 e autrice di libri di cucina vegan
Have you tried these recipes?