Spiced chocolate and orange cake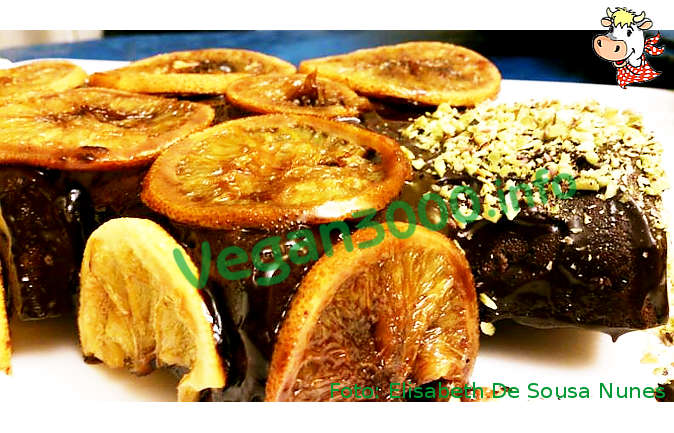 Disclaimer
This translation has been done by an automatic system, therefore we apologize if it isn't perfect. If you find any mistake or you have any suggestion for a better translation, please contact us.
Ingredients
225 g of whole wheat flour
1 teaspoon full of yeast
3 tablespoons cocoa
1 teaspoon ground cinnamon
1/2 teaspoon of clove powder
170 g of raw cane sugar
grated rind of 2 oranges
280 ml of cold water
5 tablespoons corn oil or sunflower
100 g toasted almonds
100 g raisins
100 g dried plums without stones
50 g candied ginger
2 tablespoons malt vinegar (malt or 1 and 1 apple vinegar)

Instructions
Heat oven to 180° C.
Mix the dry ingredients: flour, sugar, cocoa, orange peel, cinnamon and cloves.
In another bowl, beat with the whisk oil and vinegar until blended.
Add the mixture to the dry ingredients and mix well.
Add the water, stirring until a homogeneous paste.
Add the toasted and ground almonds, raisins, plums cut into strips and ginger and as final ingredient yeast.
Put the dough into a cake tin greased and floured and bake at 180° C for 30-40 minutes.
If you want you can cover with a dark chocolate frosting and decorate with candied orange slices.

---
---
---
---
---
Notes
Thanks to Elisabeth De Sousa Nunes
Have you tried these recipes?