Fried mixed vegetables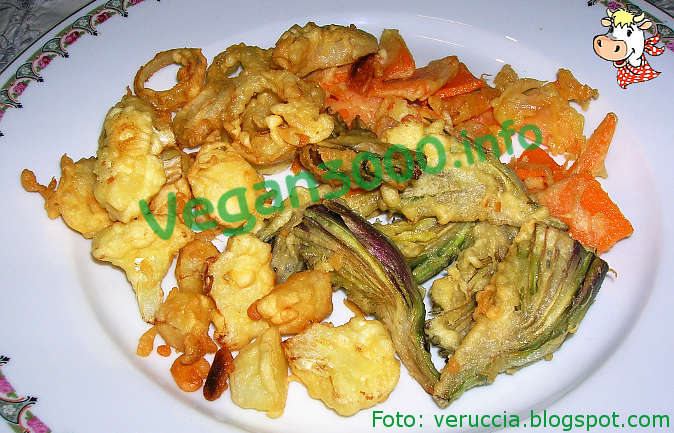 Disclaimer
This translation has been done by an automatic system, therefore we apologize if it isn't perfect. If you find any mistake or you have any suggestion for a better translation, please contact us.
Ingredients
For 8 people
200 g spring onions
1 large onion
4 artichokes
1 small cauliflower
300 g unpeeled pumpkin
200 g of broccoli
200 g of tofu to the natural
frying oil at will

For the batter
100 g of flour
50 g wheat flour
1 tablespoon of lemon juice
1 pinch of salt
water to taste.
Instructions
Prepare the batter by mixing all ingredients and adding water until you have a smooth batter, but consistent. Let rest for 1 hour.

Meanwhile, remove outer leaves of artichokes and cut into 8 wedges, then immersing them in water and lemon juice for at least an hour because they lose the bitter; clean and cut the onion into rounds and spring onions; cut the pumpkin into thin slices; Blanch diced tofu for a few minutes; cut cauliflower and broccoli into florets as small as possible.
Heat the oil in a deep pan and hold; Dip the vegetables in batter, drain and FRY until golden brown, about 7 minutes will for artichokes, broccoli and cauliflower; 5 minutes for squash; 3 minutes for onions, spring onions and tofu.

To save time
Clean and cut vegetables with a few hours in advance and keep them in the refrigerator until ready to dip them in the batter.
---
---
---
---
---
Notes
Thanks to Vera Ferraiuolo - veruccia.blogspot.com
Have you tried these recipes?