Pumpkin dumplings with cream of radicchio chicory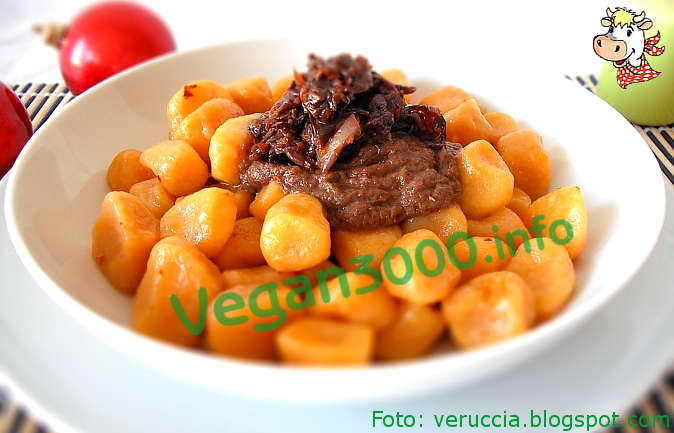 Disclaimer
This translation has been done by an automatic system, therefore we apologize if it isn't perfect. If you find any mistake or you have any suggestion for a better translation, please contact us.
Ingredients
For 8 people
600 g pumpkin compact, already cleaned
600 g of yellow-fleshed potatoes
400 g flour 00
1 teaspoon salt

For cream
2 heads of radicchio chicory
1/2 small red onion
1 tablespoon balsamic vinegar
2 tablespoons extra virgin olive oil
salt
Instructions
Heat oven to 200° C.
Cut the pumpkin into cubes of about 1 cm and place them on a baking sheet lined with parchment paper for 25 minutes, or until they are soft.
In the meantime boil in lightly salted water the potatoes in their skins; when they are cooked (about 25 minutes), drain and peel.
Passed both the vegetables in the blender, stir the puree and add the flour and salt.
Mix until blended and meanwhile heat the cooking water.
With the dough formed of thin sausages like a finger, cut small pieces and arrotondateli with your hands to form the dumplings; cook them in salt water, a few at a time draining while they return to the surface.

For the cream of radicchio
Finely chop the onion and brown in oil; add the radicchio, washed and cleaned and cut into thin strips, and 1 pinch of salt.
Cook radicchio until soft, adding water if necessary, and mix up the 2/3; add the vinegar and season with salt.
Toss the dumplings with the cream and with radicchio strips still whole.
---
---
---
---
---
Notes
Thanks to Vera Ferraiuolo - veruccia.blogspot.com