Vegetables au gratin with béchamel sauce with mush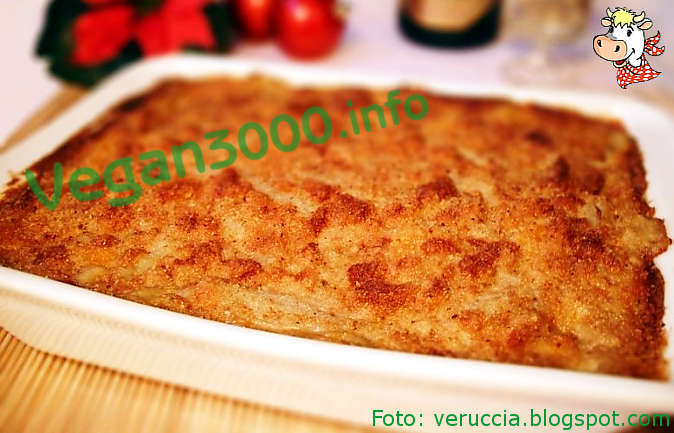 Disclaimer
This translation has been done by an automatic system, therefore we apologize if it isn't perfect. If you find any mistake or you have any suggestion for a better translation, please contact us.
Ingredients
For 8 people
1.5 kg between Sicilian broccoli, fennel and cauliflower, pumpkin

For the sauce
100 g flour 00
100 g margarine
1 liter of vegetable milk
2 teaspoons of salt
1 dusting of nutmeg
1 pepper
600 g of mushrooms, sauteed already

To cook au gratin
2 tablespoons margarine
2 tablespoons of breadcrumbs
1 tablespoon nutritional yeast powder
Instructions
Clean the vegetables, cut the cauliflower and broccoli into florets Sicilian, pumpkin and dice fennel into wedges. Blanch all in lightly salted water, drain the vegetables al dente and put them aside to drain.
Prepare the béchamel: melt margarine in a saucepan, add the flour to form a smooth cream, then add the milk little by little, as the sauce thickens (stir continuously with a whisk for no lumps). Add salt, pepper, nutmeg and finally mushrooms, having smoothies with little sauce.
Pour the sauce over the vegetables, place them in a baking dish, sprinkle with bread crumbs, baking powder and flakes of margarine. Bake at 200° C for 30 minutes, then turn on the grill for 10 minutes until it will form a crisp crust and serve.
---
---
---
---
---
Notes
Thanks to Vera Ferraiuolo - veruccia.blogspot.com
Your comments
Salve,vorrei sapere perche' si usa il lievito in polvere per la gratinatura. Grazie
- Nana' -
@Nana': Il lievito alimentare in polvere serve ad insaporire i piatti; nella cucina naturale e vegan viene generalmente utilizzato in sostituzione del parmigiano e del grana, prodotti notoriamente cruenti e NON vegani. In linea di massima per la gratinatura in forno il lievito alimentare non è indispensabile, mentre consigliamo una spolverata di pane grattugiato che conferirà anche una gradevole croccantezza; ovviamente si possono utilizzare anche assieme, come in questa ricetta.
- Lo staff di Vegan3000 -
Have you tried these recipes?