Spelt salad with cannellini beans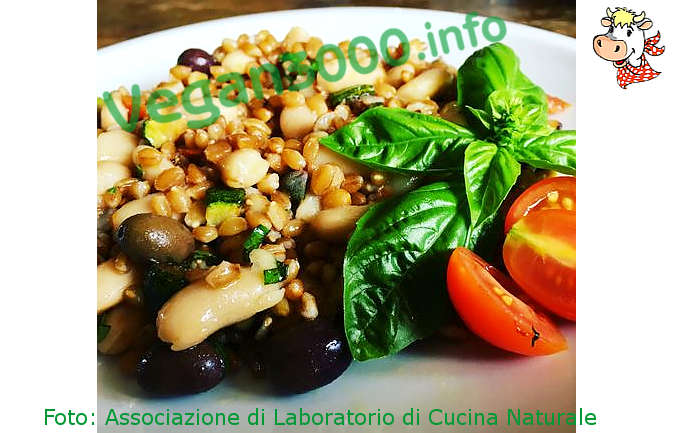 Disclaimer
This translation has been done by an automatic system, therefore we apologize if it isn't perfect. If you find any mistake or you have any suggestion for a better translation, please contact us.
Ingredients
For 4 people
250 g of decorticated spelt
10 red tomatoes
1 zucchini
200 g of cooked white beans
100 g of pitted olives
6 basil leaves
salt and pepper
extra virgin olive oil
Instructions
Soak the spelt for a few hours.
Drain and cook it with a little salt in about 500 ml of water for 25-30 minutes, until all of the water is absorbed.
Turn off and let it sit for 10 minutes.
Remove from the pan and season with a spoon of oil and allow it to cool.
Wash and cut the zucchini into cubes and cook quickly in a little oil.
Wash the tomatoes, cut in half and remove the seeds, then cut into cubes.
Into the blender put olives, basil, salt and 3 tablespoons olive oil.
Blend on pulses, the pesto should not be too creamy.
Combine all ingredients in a bowl, drizzle with basil and olive pesto, freshly ground pepper and stir to mix.
Add salt if needed.
Also great cold.
---
---
---
---
---
Notes
Thanks to Associazione di Laboratorio di Cucina Naturale
Have you tried these recipes?