Creamy vol au vent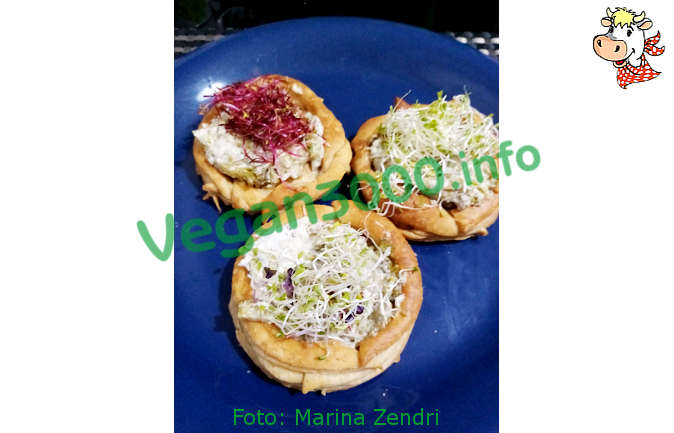 Disclaimer
This translation has been done by an automatic system, therefore we apologize if it isn't perfect. If you find any mistake or you have any suggestion for a better translation, please contact us.
Ingredients
- 1 roll of vegan puff pastry
- okara (I had buckwheat, but it's going to be great of any kind)
- shredded cooked vegetables (I had zucchini and green broccoli)
- salt
- sprouts
Instructions
A recipe that I invented because I had buckwheat okara to use.

I cut out the vegan puff pastry with a 10 cm diameter pastry cup of the circles from the pastry and hounded them with a fork.
With the sheet clippings I created strips that I put around the circumference of each circle to create baskets (see photo) and baked in a preheated oven at 180 degrees C for 15 minutes.
Meanwhile I added the vegetables to the okara and salted it slightly.
Once cooked the vol au vent I baked them, filled with a little dough and decorated with sprouts.
These vol au vent are perfect as a starter or for a snack, yummy and rich in protein, minerals and antioxidants!
---
---
---
---
---
Notes
Thanks to Marina Zendri
Have you tried these recipes?