Couscous with vegetable ratatouille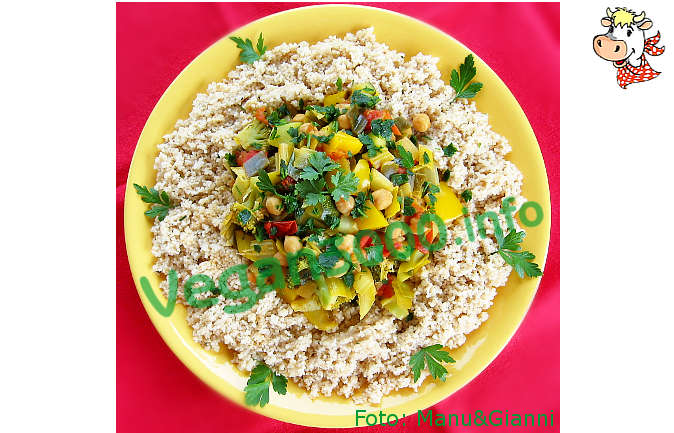 Disclaimer
This translation has been done by an automatic system, therefore we apologize if it isn't perfect. If you find any mistake or you have any suggestion for a better translation, please contact us.
Ingredients
For 6 people: 300 g couscous-layers of colored peppers-courgettes 250 g 150 g 150 g-100 g carrot-Eggplant-a celery heart-a small onion-curry-olive oil-Salt
Instructions
Cut carrot, celery, onion and sauté in a tiny diced capable pan, in a little olive oil flavored with a pinch of curry; Add to the pan the diced peppers, slices of Zucchini, eggplant, diced. Let braise for about 10 ' then pour 300 g of water, add salt, to a boil, then add the couscous is calculated 3, switch off and let it soak. At the end, add a little olive oil, mix, transfer the preparation on platter and serve.
---
---
---
---
---
Notes
Tempo: 60'
Ricetta tratta da "Cucina Italiana"
Your comments
NIENTE PEPERONI E TRE CUCCHIAI DI CECI LESSATI
- Deanna -
non ho provato la ricetta ma ne seguo una mia che si assomiglia solo che aggiungo in più pomodoro,cavolo e broccoli a ciuffetti e pezzetti di zucca oltre a canella e zenzero e ceci e il cuscus lo cuocio a parte per poi mescolare tutto solo nel piatto dove aggiungo,generosa il curry. E' delizioso!E dimenticavo anche un po' di coriandolo all'inizio mentre sofrigge la cipolla.
- marzia -