Cannelloni with pumpkin and rosemary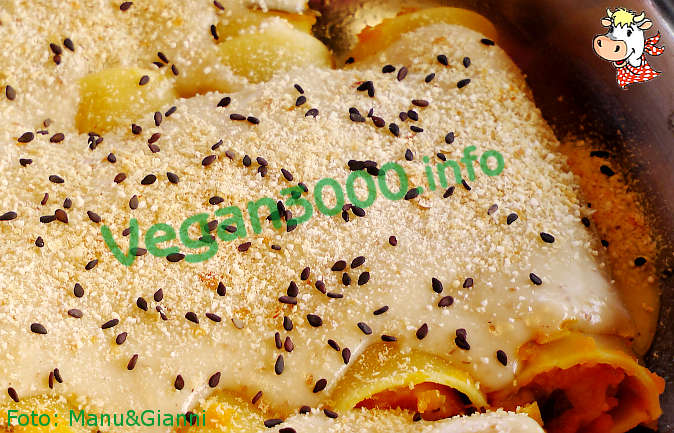 Disclaimer
This translation has been done by an automatic system, therefore we apologize if it isn't perfect. If you find any mistake or you have any suggestion for a better translation, please contact us.
Ingredients
For 6 people
18 dried cannelloni of durum wheat (no eggs)
1 Kg of pumpkin Hokkaido or Delica (peeled)
2 cloves garlic
1 teaspoon minced fresh ginger or 1/2 teaspoon of ginger powder
1 pinch of cayenne pepper
a few sprigs of rosemary
extra virgin olive oil
salt
béchamel sauce

For coverage
nutritional yeast flakes
breadcrumbs
black sesame seeds (optional)
Instructions
Peel the squash and dice very small, so they will cook before. If you use the pumpkin Hokkaido or the Delica (bio) also used the peel and remove only the seeds.
Chop the garlic and fry it in a pan with a little oil.
As soon as it starts to sizzle, add the diced pumpkin, chopped Rosemary needles, pepper, salt, a glass of water, then stir and cover with a lid.
Cook over low heat, stirring occasionally and making sure that doesn't stick to the bottom, in which case add a little water.
After cooking the pumpkin should be soft and discard simply rimestandola with spoon, plus the water must have been completely absorbed.
While the filling is cooking, prepare the béchamel sauce.
Blanch rapidly the cannelloni in boiling salted water, where you have added a little oil so they don't stick together. Although this is preventative lasagne and cannelloni that don't require cooking, to get a better result I personally prefer to give them a blanched: just a couple of minutes, no more, and you can leave the dough still lasts, rather than al dente; in this way you avoid having raw parts or not well cooked in the final dish you are preparing to prepare.
Waiting to fill them, after they are blanched, place the cannelloni on a flat surface (a large baking sheet, plates or clean cloth), being careful not to break them and not to place them too close together, so that you are not sticking together.
When the pumpkin filling is cooked and the sauce is ready, you can proceed to fill the cannelloni one by one.
Oil a large ovenproof dish, gently fill each cannelloni, by this time also very careful not to break them (if you do not have them you get to overcook it will be harder for that to happen), place them next to each other and in the end cover with the béchamel sauce.
Finish with a light dusting of nutritional yeast flakes and bread crumbs on the surface, in order to obtain an optimal Browning.
You can further enhance the presentation with some black sesame seed, to create a pleasant contrast.
Bake at 180-200° C for 25-30 minutes and serve hot!
---
---
---
---
---
Have you tried these recipes?