Conchiglioni with pumpkin, potatoes and leeks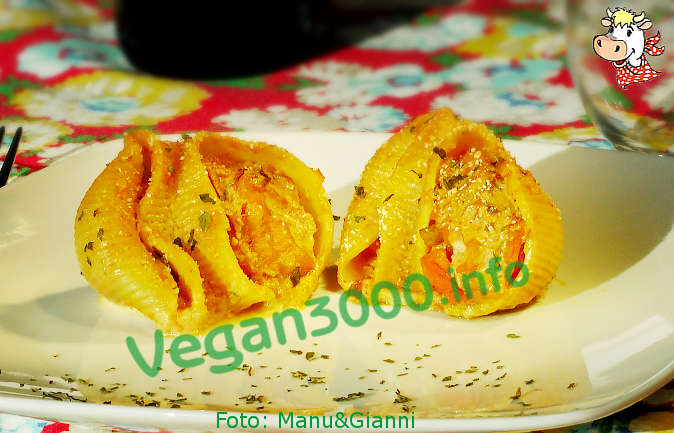 Disclaimer
This translation has been done by an automatic system, therefore we apologize if it isn't perfect. If you find any mistake or you have any suggestion for a better translation, please contact us.
Ingredients
For 4-6 people
12 dried durum wheat semolina pasta conchiglioni (no eggs)
400 g pumpkin Hokkaido or Delica (peeled)
400 g potatoes
1 leek
1 teaspoon curry powder (or a bit of chili)
a sprig of rosemary needles
extra virgin olive oil
salt
or, as an alternative to béchamel sauce
100 ml soy cream
100 cream of coconut
2 Tablespoons extra virgin olive oil
2 tablespoons soy sauce (shoyu)
2 tablespoons nutritional yeast flakes

For coverage
nutritional yeast flakes
breadcrumbs
black sesame seeds (optional)
Instructions
Peel the leek and cut into slices the white part chopped and the green part.
Peel the potatoes, cut them into cubes and cook by steaming.
Peel the pumpkin (in case of Hokkaido or Delica bio you can also use the peel and remove only the seeds) and cut it into cubes: the smaller before they will cook.
Saute the leeks in a large pan with a little oil, when it is soft, add the diced pumpkin, chopped rosemary needles, curry (or pepper), salt, a glass of water, then stir and cover with a lid.
Cook over low heat, stirring occasionally and making sure that doesn't stick to the bottom, in which case add a little water.
United towards the end of cooking the potatoes steamed, stir thoroughly and cook a few more minutes so that all the flavors can blend well with each other.

While the filling is cooking, prepare the béchamel sauce.
As an alternative to the standard that I use usually, this time I prepared it by mixing the soy cream with coconut cream, 2 tablespoons of olive oil, two of shoyu and two of nutritional yeast flakes.
I emulsified everything carefully and then used this alternative béchamel sauce to cover the conchiglioni in order to brown them in oven.
The use of coconut cream for this sauce, together with curry used for the filling, gave this dish a pleasant exotic touch which was much appreciated.
After having boiled the conchiglioni in boiling salted water, fill them with the mixture of pumpkin, potatoes and leeks, place them one by one in an oiled baking sheet and cover with the sauce that you prepared in the meantime.
Finish with a light dusting of nutritional yeast flakes and bread crumbs on the surface, in order to obtain a gratin.
Bake at 190° C for 15-20 minutes and serve hot.
---
---
---
---
---
Notes
Thanks to Emanuela Barbero, webmaster di Vegan3000 e autrice di libri di cucina vegan
Have you tried these recipes?