Four flavor cream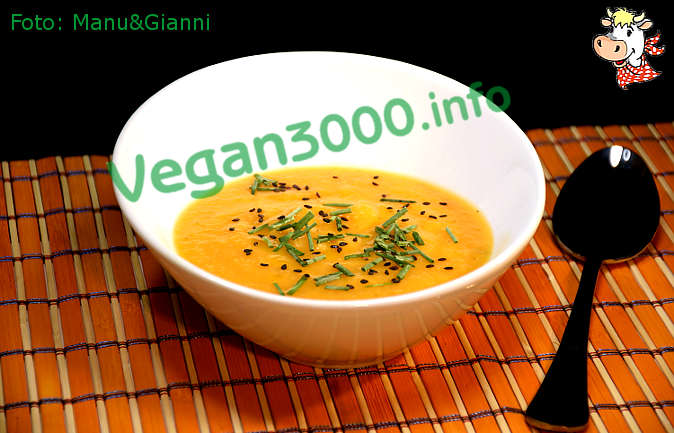 Disclaimer
This translation has been done by an automatic system, therefore we apologize if it isn't perfect. If you find any mistake or you have any suggestion for a better translation, please contact us.
Ingredients
For 4 people
500 g pumpkin peeled
2 large carrots
6-8 leaves of cabbage (or hood)
6-8 tablespoons chickpea flakes
1 clove of garlic
extra virgin olive oil
herbes de Provence
salt

To serve (optional)
fresh chives and black sesame seeds
Instructions
The four flavors, delicate and well balanced as a whole, are pumpkin, carrots, cabbage and peas.


Cut the pumpkin and carrots into small pieces and the cabbage leaves into thin strips.
Chop the garlic and let it soften in the oil, then add the vegetables into small pieces and cover with about 1 litre of water.
Adjust salt and season with herbs of Provence, straws and bring everything to a boil.
After 10 minutes of boiling chickpeas and cabbage flakes also merged into strips, stir and simmer on low heat for another 15-20 minutes.
When all the vegetables are soft, turn off the flame and reduce all in cream using a hand blender.
Serve the soup with fresh chives and toasted sesame seeds, preferably black, thus creating a pleasant contrast of colors.
---
---
---
---
---
Notes
Thanks to Emanuela Barbero, webmaster di Vegan3000 e autrice di libri di cucina vegan