Vegan lentil sausage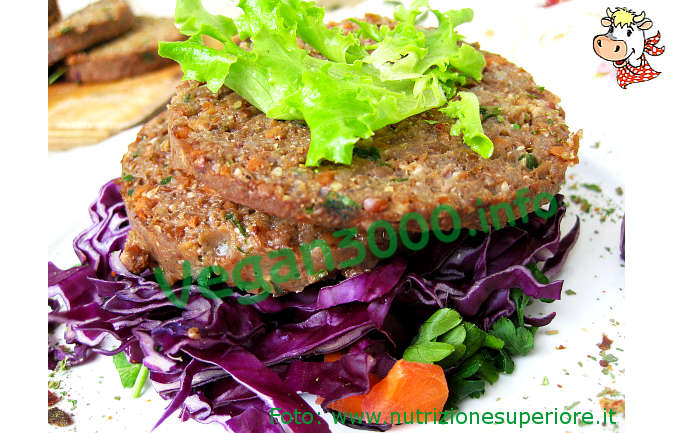 Disclaimer
This translation has been done by an automatic system, therefore we apologize if it isn't perfect. If you find any mistake or you have any suggestion for a better translation, please contact us.
Ingredients
For 4 people

200 g lentils
1 medium carrot
1/2 onion
2 stalks of celery
2 tablespoons agar agar
salt
pepper
extra virgin olive oil
Recommended equipment: a blender or a food processor
Instructions
Thanks to vegan cuisine we can prepare some interesting vegetable variants of meat, cheese even of sausages and salami.
In the following lines, then, we will reveal the secrets to create an interesting plant variant of salami: the sausage of lentils.

Boil the lentils in salted water and wait until reaching the point of cooking.
Meanwhile chop the carrot, onion and celery sticks.
Put a pan on the heat with a little olive oil, and when the oil will be heated add the vegetables, which you will jump in the pan for about 5 minutes.
Once the cooking vegetables, place them in a blender or in a food processor, adding lentils (which you obviously previously drained thoroughly, making sure to eliminate any residual water), salt, pepper and any herbs you like.
Chop everything until you have achieved a smooth and creamy.
Meanwhile take a saucepan and add 250 ml of water and two tablespoons of agar agar, then bring to a boil.
When the agar agar is dissolved, turn off the heat and pour the liquid obtained on the cream made from chopped vegetables.
Mix thoroughly, avoiding the formation of clots, and pour the mixture into cylindrical glasses (can be either glass that possibly paper).
Now put the glasses in the refrigerator and wait for 2 or 3 hours, so that the mixture solidifies.
Check with a fork the consistency of the content of the glasses, and when it reaches the desired one ready to pull them out of the fridge.
At this point take a serving dish and place the contents of glasses, tapping on the bottom with the palm of your hand.
You shouldn't have particular difficulties in doing so, but in this case, you only need to exert more pressure on the bottom of the glass.
At this point your vegan lentil sausage will be ready to be served and you can submit it to your guests.
We recommend you to use it as a vegan appetizer for your dinner, perhaps with the vegan cashew cheese and croutons. You will see for yourself that your guests will be amazed by the quality, but also by the originality of this dish and that even non-vegans will appreciate this very interesting variant of salami.
There is nothing else to do, so I wish you good appetite!
---
---
---
---
---
Notes
Thanks to
www.nutrizionesuperiore.it
La cucina vegana ha veramente spopolato negli ultimi anni.
Probabilmente, infatti, grazie al gran numero di persone che hanno deciso di intraprendere la scelta di non mangiare carne e altri derivati animali, finalmente anche in Italia si è iniziato a dedicarsi a questo tipo di cucina, riuscendo a carpirne i trucchi e i segreti per realizzare pietanze gustose.
Che siate vegano o no, ad ogni modo, la cucina vegana rappresenta una materia interessantissima e un modo alternativo di cucinare tantissime pietanze, che nella maggior parte dei casi hanno anche un apporto calorico molto basso e sono, dunque, indicate anche per chi vuole stare attento alla linea.
Il segreto sta, fondamentalmente, nel giusto accostamento di verdure e di erbe aromatiche, che riesce in molti casi a sostituire anche i prodotti che sono solitamente a base animale.