Lasagna with carasau bread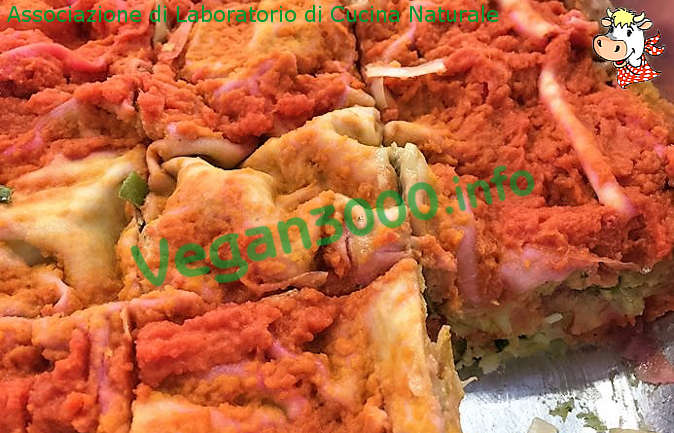 Disclaimer
This translation has been done by an automatic system, therefore we apologize if it isn't perfect. If you find any mistake or you have any suggestion for a better translation, please contact us.
Ingredients
1 pack of carasau bread
0.5 l vegetable stock
1 cooked beetroot
3 large carrots
3 onions
a small bunch of basil
1 tablespoon umeboshi's acidulous
extra virgin olive oil
a bunch of spring onions
balsamic vinegar of Modena
salt
basil pesto

For the basil pesto:
4 bunches of fresh basil leaves
1 glass olive oil
2 cloves of garlic
1 tablespoon pine nuts
a few grains of coarse salt
Instructions
Wash the carrots and spring onions.
In a casserole put roughly chopped onions and carrots and stew with a little salt, being careful not to attack on the bottom, in case you add a little water.
When the vegetables are soft, blend by adding the sugar a little at a time so you get a sauce that resembles in colour than the tomato; combine the Basil, oil and acidulous of umeboshi.
In another saucepan cook the sliced spring onions (green part) with a little olive oil; at the end add the balsamic vinegar and salt. Blend.
In an oven, compose the lasagna with layers of carasau bread softened with the broth and layers of pesto, beet sauce and puree of green onions, alternating them.
Let it sit in the fridge for a few hours.
Preparation of basil pesto:
First you must wash in cold water four bunches of basil, of course, and then put them to dry on a towel, meanwhile in the mortar you have to crush a clove every thirty basil leaves.
Add salt and at this point, but not together must be added the leaves and it starts with a gentle rotary motion and prolonged to crush them in a mortar.
When the basil will draw up a bright green liquid it's time to add the pine nuts, a handful.
And finally the olive oil, poured a drop.
---
---
---
---
---
Notes
Thanks to Associazione di Laboratorio di Cucina Naturale
Have you tried these recipes?