Seitan ravioli in broth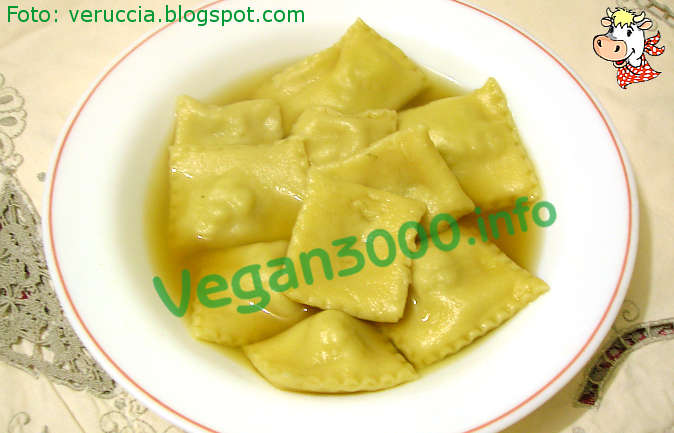 Disclaimer
This translation has been done by an automatic system, therefore we apologize if it isn't perfect. If you find any mistake or you have any suggestion for a better translation, please contact us.
Ingredients
For 8 people
For the pastry
500 g durum wheat flour
the tip of 1 tablespoon turmeric
1 teaspoon salt
2 tablespoons of extra virgin olive oil

For the filling
400 g of minced seitan (or smoothie)
1 teaspoon ground pepper
1 teaspoon ground cinnamon

For the broth
2 leeks, chopped
2 onions cut into four
2 turnip into slices
4 cloves of garlic
4 large carrots, chopped
2 sticks of celery
1 teaspoon fine salt
Instructions
Mix the ingredients for the pastry and impastateli, by hand, with enough water (about 350 ml) dough is homogeneous and compact. Let rest in refrigerator for half an hour, covered by a cloth because it does not dry out.

Meanwhile, prepare the broth: Cook all the vegetables, thoroughly washed and cleaned, in plenty of water (about 4 liters) for 45 minutes; If you use a pressure cooker just 15 minutes. Strain the broth; You can use the vegetables to get a tasty cream, churning them up along with two boiled and peeled potatoes and adding soy cream.

Chop the seitan, or blend it; season with pepper and cinnamon in a bowl, adding salt only if needed.

Remove the dough from the refrigerator, pull it with a rolling pin, cut into long rectangles and then pass it through the rollers of the pasta machine, up to a thickness of 2 mm (you can also pull the dough with rolling pin, but is more difficult). Use the cutting wheel to obtain a rectangle along and not very wide to browse, and let it air dry for about half an hour.
Resting on the strips of small portions seitan (the tip of a spoon), distancing the dollops of about 3-4 cm; place another strip of dough and cut the ravioli with indented wheel, which will seal the edges.

Cook the ravioli in boiling broth for about 12 minutes (cooking time will depend on the thickness of the dough and the size of each piece) and serve with broth.



To save time

You can buy fresh filled pasta ready in natural food stores; or, you can prepare it at home in advance, frozen or keeping it in the refrigerator (in this case, for no longer than a few days) until ready to use.

To freeze, place the dough on a tray, spacing out well each dumpling, and when frozen food container will overlap them; plunge them directly into the boiling broth when cooking them, without bonding.

Store it in the refrigerator, place the dough, spacing out well each raviolo, on a tray powdered starch or rice flour so that the dough doesn't stick to the surface of the tray has.

Even seitan can be bought in natural food stores, or prepared at home beforehand and refrigerated or frozen, cut in large chunks or already blended.
---
---
---
---
---
Notes
Thanks to Vera Ferraiuolo - veruccia.blogspot.com