Choco-banana tofucake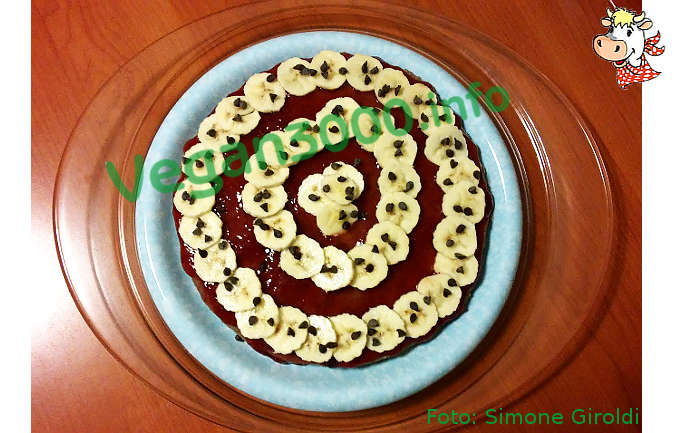 Disclaimer
This translation has been done by an automatic system, therefore we apologize if it isn't perfect. If you find any mistake or you have any suggestion for a better translation, please contact us.
Ingredients
For the base
300 g of vegan digestive or cereal type biscuits
100 g dark chocolate 100% vegan
several tablespoons of vegetable milk (if needed, depending on the chocolate used)
For cream
1 ripe banana
200 g of tofu
150 g of malt or agave syrup
the grated peel of an organic lemon or 15 drops of organic lemon essential oil
1 pinch of vanilla powder
Final cover
sugar-free fruit compote
1 banana sliced
dark chocolate flakes
some goji berries or wild berries (raspberries, blueberries, currants, strawberries)


Instructions
For this tofucake I wanted to combine two ingredients very greedy: chocolate and banana, the former for the base and the second for the cream.
To add a little of color and a further variant of flavor, you can decorate the surface also with goji berries, whose slightly acrid will give that extra touch to the final taste, not to mention the nice contrast of colors!
Of course you can also use berries to your taste: raspberries, blueberries, currants, strawberries...
Prepare the base
Melt the chocolate in a double boiler.
If necessary, depending on the chocolate that you have used, add a few tablespoons of vegetable milk to make the texture softer.
Blend the biscuits and mix them together with the chocolate in a bowl.
Oil a silicone mold and place inside the base for the tofucake, leveling the surface evenly.
Put in freezer 10 minutes while you prepare the cream for coverage.
Prepare the cream
Blend the tofu with the chopped banana and the agave syrup, add also the grated peel of an organic lemon (or the organic lemon essential oil) and a pinch of natural vanilla powder.
Remove the base of the tofucake from the freezer and cover with the cream that you have prepared, then put in the refrigerator at lesat for a couple of hours, so that the cream hardens.
Prepare the final cover
When the cream is firm remove the tofucake from refrigerator and silicone mold, then arrange it on a serving dish.
Cover with a light layer of fruit compote and decorate with the sliced banana and the dark chocolate flakes, that you can obtain by grating a few squares of vegan chocolate.

Note: The sliced banana should be added just before serving, to prevent it from oxidizing and blackening.
---
---
---
---
---
Notes
Thanks to Emanuela Barbero, webmaster di Vegan3000 e autrice di libri di cucina vegan
Have you tried these recipes?