Cannelloni with potatoes, chicory and olives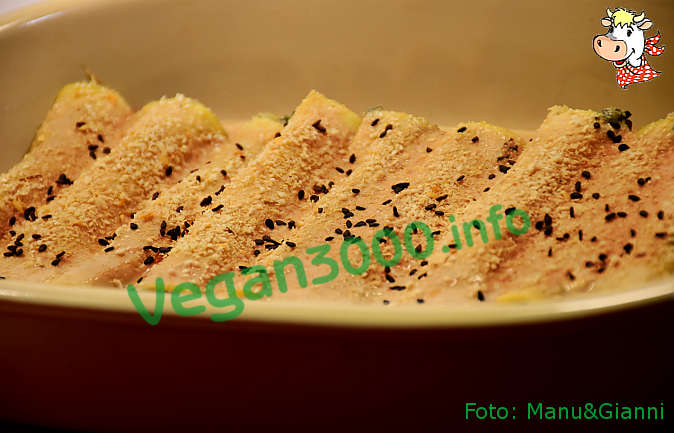 Disclaimer
This translation has been done by an automatic system, therefore we apologize if it isn't perfect. If you find any mistake or you have any suggestion for a better translation, please contact us.
Ingredients
For 4 people
16 cannelloni vegan wheat durum
500 g of potatoes
500 g of chicory (chicory)
4 tablespoons black olives pitted
100-125 ml soy cream (or other vegetable, your choice)
1 tablespoon soy sauce (shoyu)
1 tablespoon nutritional yeast flakes
extra virgin olive oil
Salt
For coverage
1 tablespoon breadcrumbs
1 tablespoon nutritional yeast flakes
1 teaspoon black sesame seeds
Instructions
For these cannelloni with a filling consisting of a combination of tastes a little unusual but very agreeable, suitable for those who love to explore new frontiers of taste and amaze the palate!
The bitterness of chicory is sweet and salty potatoes taste mushed olives gives that extra touch to a dish that will not leave you indifferent! We did an encore!!

Peel the chicory and let it dry in a pan with a little oil, add salt, add half a glass of water, stir and cover.

Simmer on low heat and with the lid, stirring and checking the cooking from time to time: If the vegetables tends to stick to the bottom of the Pan, add some more water.

Boil the potatoes and cut them into pieces.

When the chicory is cooked, add the potatoes and the pitted olives, mix well and leave on the heat with the lid a few minutes to amalagamre all the flavors.
Boil the cannelloni in boiling salted water, where you will have also added a couple of tablespoons of olive oil to prevent sticking.

As soon as the cannelloni they mention to soften, after a few minutes and before they are fully cooked, remove from water with a slotted spoon and place them on a greased with a little olive oil, separating them from each other.

Prepare a quick bechamel sauce by mixing 100-125 ml vegetable cream with one tablespoon of soy sauce and one of nutritional yeast flakes.

When the filling is cooked, continue filling the cannelloni and then cover them with bechamel sauce.

Finish with a light sprinkling of breadcrumbs and nutritional yeast sacglie, then bake in preheated oven at 190° C for about 20 minutes: are ready when the surface becomes nicely browned.
In place of the vegetable cream you can prepare the bechamel (halving the dose for this recipe).
To change you can replace the potatoes with the beans and use the mixture to beans and chicory (a classic combination of southern cuisine!) as original and tasty stuffing for your cannelloni.
---
---
---
---
---
Notes
Thanks to Emanuela Barbero, webmaster di Vegan3000 e autrice di libri di cucina vegan
Have you tried these recipes?